We hope you'll be ringing out a successful financial year at month's end. In any case, here's what you should know about preparing for 2013.
End of the year. QuickBooks has been hard at work for the past 11+ months, recording and tracking and storing all of that financial data that you've entered so faithfully.
But when you turn the calendar page and make a new start January 1, your accounting software could use some closure on the year that's just passed. Here are some actions you can take to ring out the old and ring in the new. There's more you can do (we can help you with the advanced activities) but we'll just hit the highlights here.
Reconcile, reconcile, reconcile. Yes, we know it's not one of your favorite chores, but we really like to see all bank and credit card accounts reconciled by the end of the year if at all possible. Void all checks necessary and enter missing transactions. 
Figure 1: You can make yourself crazy looking for a nickel when you're reconciling, but it's a critical function.
Make accrual adjustments. This is complicated, and it only applies if you accrue payroll and liabilities or prepay expenses that are then carried as assets. We'll need to create journal entries for you.


Close your books. This is

totally optional

. It depends on whether you want to lock 2012 data to everyone except those who have the password and permissions. If you don't close them, you'll have easier access to last year's transaction details. Regardless of what you choose, QuickBooks will automatically make some year-end adjustments.


Do a physical inventory. Then compare this with what QuickBooks says. Reports | Inventory | Physical Inventory Worksheet.
Figure 2: It's good to match up your physical inventory count with QuickBooks occasionally, and the end of the year is as good a time as any.
Run income tax reports. As you know, QuickBooks lets you assign tax lines to tax-related transactions. Use the Income Tax Preparation Report and the Income Tax Summary Report. Let us know about any errors or omissions.


Check W-2 and 1099 data. You can't create these forms, of course, until after your final 2012 payroll, but you can get a head start. Ask employees to verify their names, addresses and Social Security numbers for accuracy. Also, make sure that your EIN and SEIN are correct, as well as the company address.


Clean up, back up. We can monitor the health of your QuickBooks data file anytime. But year-end is a good time to scrutinize your software's performance. Has it slowed down, started crashing or returning error messages? We can troubleshoot to find the problem and clean it up. We're sure you've been backing up your file faithfully, but archive all of 2012 and store it in a very safe offsite location – or use Intuit Data Protect for online storage. 
Figure 3: Frequent backups are critical, but you should be sure to have a copy of your entire 2012 data file stored somewhere safe.
Double-check tax liabilities. If you're handling your own payroll, look back to see whether all of your payments and filings have been completed.
Thanks for another year
.
Again, these are suggestions. QuickBooks does not require you to do any of them. There's more you can do, and you will need assistance with some of these. So let's set up a December or early January meeting to get you started right in 2013.
We want to take this opportunity to thank you for letting us serve your company in 2012. We certainly appreciate your business, and we're happy to do what we can to help your business prosper.
P.S. It's not too early to think about taxes, so let us know if you want to get a jump on planning and preparation in January.
Create item records in QuickBooks carefully, and QuickBooks will return the favor by running useful, accurate reports.
Figure 1: Clearly-defined items result in precise reports.
Obviously, you're using QuickBooks because you buy and/or sell products and/or services. You want to know at least weekly -- if not daily -- what's selling and what's not, so you can make informed plans about your company's future.
You get that information from the reports that you so painstakingly customize and create. But their accuracy depends in large part on how carefully you define each item. This can be a laborious process, but it's a critical part of QuickBooks' foundation.
QuickBooks' Item Lineup
You may not be aware of all of your options here. So let's take a look at what you see when you go to
Lists | Item List | Item | New:

Service.
Simple enough. Do you or your employees do something for clients? Training? Construction labor? Web design? This is usually tracked by the hour.
Inventory Part.
If you want to maintain detailed records about inventory that contain up-to-date information about value, quantities on hand and cost of goods sold, you must define these items as inventory parts. Before you start creating individual records, make sure that QuickBooks is set up for this purpose. Go to
Edit | Preferences | Items & Inventory | Company Preferences
and select the desired options there, like this:
Figure 2: QuickBooks needs to know that you're planning to track at least some items as inventory parts.
Inventory Assembly.
Just what it sounds like; it's sometimes referred to as a
Bill of Materials
. Do you sell items that actually consist of multiple individual products, services and/or other charges (though you may also sell the parts separately)? If you're planning to track the compilations as individual units, then you must define them as assemblies.
Non-Inventory Parts.
If you don't track inventory, you can set up items as non-inventory parts. Even if you do track inventory, there may be times when you'll want to use this designation. For instance, you might sell something to a customer that they asked you to obtain, but you don't plan to stock it. In that case, QuickBooks only records the incoming and outgoing funds.
Figure 3: The New Item window looks a bit intimidating, but it's critical that you complete it thoroughly and correctly. We can help you get started.
Other Charges.
This is a catch-all category for items like delivery charges or setup fees. You can't designate a unit or measure here; they're just standard costs.
Groups.
Unlike assemblies, these are not recorded as individual inventory units. Use this designation when you sell a combination of items together frequently but you don't want them tracked as one entity.
Discount.
This is a fixed amount or a percentage that you subtract from a subtotal or total.
Payment.
Normally, you would use the
Receive Payments
window to record a payment made. But if your customer has made a partial or advance payment upfront, use this item to subtract it from the total when you create the invoice or statement.
Figure 4: Use the
Payment
item to record an upfront remittance.
Sales Tax Item.
One sales tax, one rate, one agency. Sales Tax Group. If a sale requires two or more sales tax items, QuickBooks calculates the total and displays it for the customer, but the items are tracked individually.
Additional Actions
The Item menu provides other options for working with items. You can:
Edit or delete
Duplicate
Make inactive
Find in transactions and
Customize the list's columns.
Let us know if you're not confident about items you've already created or if you're just getting started with this important QuickBooks feature. Some extra work and attention upfront can save you from hours of back-tracking and frustration – and from reports that don't tell the truth.
Tired of QuickBooks' cramped, claustrophobic screens and uneven interface? You'll be pleased to see the 2013 version.
You chose QuickBooks for a variety of reasons, a major one being its simplicity and usability.
But the software is more than 20 years old now, and hundreds of features have been added over the years. QuickBooks looks old, tired and in need of a makeover.
Not anymore. Intuit has totally redesigned the program's interface and navigational tools, providing a more consistent, streamlined, state-of-the-art look and feel. For the first time in a few years, there's a compelling reason to consider moving up.
Figure 1: The QuickBooks 2013 home page.
Clean, Efficient, Customizable
What Intuit heard from customers was that they wanted a clean, simple experience. They wanted QuickBooks optimized for efficiency, and they wanted to be able to customize quickly.
So Intuit built a brand new interface, one that offers:
An across-the-board, consistent look and feel
A minimal learning curve, aided by familiar software conventions
A clearer, more obvious workflow.
QuickBooks' 2013's dramatic changes are evident from its first screen. The home page has been cleaned up, and many icons removed (with their functions available elsewhere). But the interactive flowchart graphic is still there, along with icons for other commonly-used features.
You can still use the software's standard drop-down menus. But you now have a choice between the old horizontal Icon Toolbar and a new vertical navigational panel (or neither of the latter two). You can customize the new panel to give you quick access to the functions and reports you use most often, saving time and unnecessary clicking.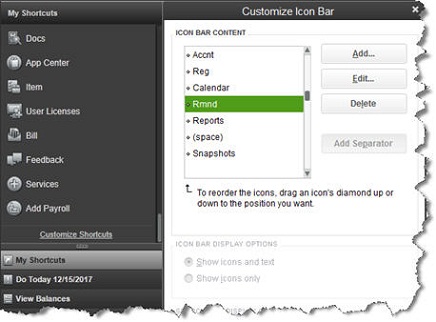 Figure 2: The new vertical navigational panel can be customized to display the icons you want.
Familiarity, and Clear Signals
Whether you just handle a subset of your company's financial data or you're the only one working with QuickBooks, your workflow will be faster and more intuitive.
QuickBooks 2013 uses colors and other visual cues to provide helpful hints and speed up your work. If the same option occurs within more than one screen, it's always the identical color. When you're completing an invoice, for example, the
Save & New
button is a bright blue color, as it is on many other screens. The
Save & Close
and
OK
icons are the same shade within the forms and records where they occur.
Color is also used to signify related actions in the new navigational
Ribbon
, a familiar interface convention that replaces the mismatched icons that used to be displayed at the top of transaction forms. In QuickBooks 2013, the icons for related tasks are the same color, and the graphics themselves are much cleaner and well-positioned.


Figure 3: QuickBooks 2013's new navigational Ribbon is designed to accelerate workflow.
A Pleasure to Use
No area of QuickBooks remained untouched in this massive overhaul. Every screen has been modified to enhance readability and speed. Fonts look larger and clearer, and the overall design is more aesthetically pleasing.
So besides making your accounting chores zip along faster, the new look and navigation have a positive psychological effect: It's simply more enjoyable and less frustrating to interact with QuickBooks 2013. Its more modern, attractive look has a lot of appeal.
There are a few new things under the hood in this new version – it's not just an interface update. For example, customer and vendor records are more flexible and thorough. You can attach to-do's to them, assign multiple contacts and store more contact options, like Facebook addresses and Twitter handles.


Figure 4: Contact records in QuickBooks 2013 are more readable and thorough.
Starting Fresh
There are other changes that will make your work life easier, like one-click access to both the
Intuit App Center
(where you'll find hundreds of integrated QuickBooks add-ons) and your most often-accessed reports.
The last few versions of QuickBooks have been rather ho-hum in terms of new usability and functionality. But we encourage you to seriously consider upgrading to QuickBooks 2013. We'd be happy to help you get up and running with it. Together, we can take a fresh look at your workflow to see if you and QuickBooks can build a better accounting experience.
No, you'll never max out all of its features, but here are some tips on tools that extend QuickBooks' usefulness – and save you time.
Zero In On Key Report Figures
You've undoubtedly created reports that were so lengthy that you got tired of scrolling up and down to find totals for each individual section. QuickBooks lets you collapse and expand reports to see primary totals only, but this command affects the entire report.
If you want to just collapse a section or two, here's how you do it. As an example, go to
Reports | Company & Financial | Balance Sheet Standard
. In QuickBooks 2012, you'd click the
Excel
button (your version may say
Export
). Indicate that you want to create a new worksheet and click
Advanced
. This window opens:
Figure 1: The Advanced Excel Options window displays the formatting tools you can carry over from QuickBooks and the features in Excel that you want to be active.
Make sure that
Auto Outline (allows collapsing/expanding)
is checked, then click
OK
and start the export. When your report opens as an Excel spreadsheet, you'll notice that there is a series of vertical lines to the left of your data, and a group of numbers that corresponds to them running above horizontally.
Figure 2: Excel's Auto Outline feature adds tools to the left of your data that let you collapse and expand subsections.
To collapse a section so that only the totals show, click on the
minus (-)
sign next to the line that should remain (in this example, it's
Total Checking/Savings
). Do the same for
Total Accounts Receivable
and
Total Other Current Assets
. Then scroll down and do the same thing for the other asset subtotals. Here's what you'll see:
Figure 3: As you can see, the minus (-) signs have turned into plus (+) signs, which allows you to expand the rows back to their original states.
Auto Outline is a very useful feature, but there's more than one way to implement it. And its availability and operation can vary in different versions of both Excel and QuickBooks. We can help you master this, as well as other QuickBooks-to-Excel tools.
Hidden Gems
Here are some other less-commonly-used QuickBooks features that you may want to try:
Getting ready to send an invoice but want to check a related transaction from the same job a few months ago? You could use the Find tool, which is a seriously underused feature that can often answer a question quickly. But that takes a few clicks. Instead, just hit Ctrl + L, and that Customer/Job screen pops open in the Customer Center. Click Ctrl + E from that screen to see the Edit Job dialog box.


CTRL+Y on transaction screens opens the Transaction Journal, which shows you the behind-the-scenes debits and credits. If the Account column is truncated, click and drag the little diamond symbol to the right.


QuickBooks offers numerous helpful payroll reports, but it also transfers your data into Excel for more comprehensive views of your employee compensation information over customizable date ranges. Go to Reports | Employees & Payroll | Summarize Payroll Data in Excel and More Payroll Reports in Excel. 
Figure 4: Summarize Payroll Data in Excel is actually a series of reports, available by clicking this navigational bar at the bottom of the screen.
Allowing multiple windows in QuickBooks and tired of clicking the little x repeatedly to start with a clean slate? Click Window | Close All. This drop-down menu also displays the list of open windows; click on one to go there.


There may be no more frustrating task than reconciling your bank accounts. If you're using online banking, consider doing this more than once monthly. Also, don't let QuickBooks do an automatic adjustment for a considerable discrepancy unless it was a mistake made by a financial institution: Click the Undo Last Reconciliation button and try to find the error. And don't forget about the Leave button. You may do better attacking it later.


If you occasionally need to enter a transaction for an entity that isn't a customer, vendor or employee, go to Banking | Other Names List. You can add, edit and delete these, as well as converting them to customers, vendors or employees.
There's more than one way to do a lot of things in QuickBooks. We can tell you about more, and evaluate your workflow to see how else we can improve your accounting experience.
Running out of products too frequently? Having to sell cheap because inventory is overloaded? Use QuickBooks' reports.
It seems so simple in theory. Don't overstock goods because you'll tie up too much money and perhaps need a clearance sale to get rid of the excess. On the other hand, don't let yourself run out of anything and lose orders.
In practice – especially if you stocks dozens or hundreds of items – it's impossible to ensure this if you're managing your inventory manually. Guesswork can be costly.
It's a complex element of accounting, but QuickBooks comes equipped with a handful of reports that can keep you on track. They don't teach you how to balance your inventory to improve profitability, but we can help with that.
Figure 1: Be sure to enter a figure in the Reorder Point field so QuickBooks can remind you to reorder.
Building Precise Records
There's a critical number in your item records that must be completed: Reorder Point. You'll see it at the bottom of the
Edit Item
window (click
Lists | Item Lists
and double-click on the correct entry or click
New
in the
Item
drop-down list). Without it, QuickBooks can't alert you when you're running low.
QuickBooks also tells you how many items are currently on hand. If you had reached the reorder point and created a purchase order, you'd see a number under On P.O.
Ideally, you would do this when you're first adding item records, but you can go back at any time and add it.
Rigorous Reporting
Running reports regularly will keep you apprised of your inventory status. To see what QuickBooks offers, click
Reports | Inventory
or go to the
Report Center
. Select
Inventory Valuation Summary
. You can also see this report in detail, but if you carry a lot of inventory, it's difficult to get a birds' eye view. Do run it, though, if you want to see the transactions that affected your inventory's value.
Figure 2: The Inventory Valuation Summary does just what the name says
In addition to what's pictured here, this report displays columns for
Sales Price
,
Retail Value
and
% of Total Retail
. As always, you can click
Customize Report
to change the date range.
Figure 3: This report provides a real-time update of the status of every inventory item.
Precise Tracking
The
Inventory Stock Status by Item
report should be consulted frequently. It tells you exactly where all of your items are in the pipeline.
Watch for checkmarks in the
Order
column; they appear when you've hit or exceeded your specified reorder point. Three other important figures populate columns in this report: the number on purchase order, the date the next shipment should arrive and average sales per week.
Reminders
can come in quite handy here. To set them up, go to
Edit | Preferences | Reminders | Company Preferences
. And you'll find the most comprehensive view of your items in the
Inventory Center
. Go to
Vendors | Inventory Activities | Inventory Center
. This screen also provides quick access to commonly-used reports.
Figure 4: The Inventory Center tells you everything you want to know about your items.
Automate Your Inventory Reporting
Here's a quicker way to grab your reports:
Go to Reports | Memorized Reports | Memorized Report List.


Click the down arrow next to Memorized Report at the bottom and select New Group. Type in Inventory and click OK.


Open an inventory report and click Memorize. The Memorize Report window opens. Check Save in Memorized Report Group and select Inventory from the drop-down list. Click OK. Repeat for others you want in this cluster.


Click Reports | Process Multiple Reports. Select Inventory from the drop-down list and make sure that there's a check mark next to the reports you want. You can click on the dates in the From and To column to change them.


Click Display or Print.
If you operate a product-based business, the success of your company depends in large part on your ability to find the sweet spot: neither too much nor too little inventory. It's an ongoing, daily challenge. Let us know if we can provide guidance on this critical balancing act.
Does your business have clients whose work sometimes requires multiple steps drawn out over weeks or months, like remodeling projects or court cases? If so, and you're not using QuickBooks'
Jobs
features, you're missing out on the opportunity to track and evaluate the financial impact of these complex tasks.
You can, of course, just send an invoice out to these customers. But if you do, you're not taking advantage of what QuickBooks' job tools can do. If you create and track these projects faithfully, you'll have valuable insight that you wouldn't otherwise.
Simple definitions
Before you create jobs, you'll need to make sure that QuickBooks is set up properly. Click on
Edit | Preferences
and then on the J
obs & Estimates
and
Company Preferences
tabs. You'll see this window:
Figure 1: It's important to set up Jobs options before you begin
.
There are just a few preferences to set here, but you need to make any necessary changes before you launch into job creation. Also, if you track time, scroll down on the list on the left to
Time & Expenses
. Be sure time-tracking is turned on, as this will likely be an important element of your jobs.
Before you can attach jobs to customers, you'll have to define your
Job Types
. Go to
Lists | Customer & Vendor Profile Lists | Job Type List
. A small window opens with command bars at the bottom. Open the
Job Type
tab and click
New
. Let's say you're a building contractor. You might type
Remodel
in the J
ob Type Name
box, then
OK
.
Repeat until you've entered all of your job types. If you want to build subtypes, click
New
again and enter the name of the subtype, like
Kitchen
. Click
Subtype
of and click the arrow to drop down the list. Select the parent type and click
OK
.


Figure 2: It's easy to build a list of your job types and subtypes.
Outlining your jobs
Of course, you'll be attaching jobs to customers, though each
Customer:Job
will exist as an individual entity. So start by opening the
Customer Center
. Right-click on a customer who needs a job tracked and select
Add Job
. The
New Job
window opens, which should already contain your customer's profile. Click on the
Job Info
tab. In the
Job Name
field, enter
Main Home Kitchen Remodel
, and skip over the
Opening Balance
field.
Click the arrow to open the
Job Status
list and select
Awarded
from the options offered (
None, Pending, Awarded, In Progress, Closed, Not Awarded
). Select the
Start Date
and
Projected End Date
. Type a brief description in the
Description
field and select the correct job type. Your window will look something like this:


Figure 3: You can lay out simple details about each job on this screen.
Click
OK
to save this job. It's now available for use in transactions and reports. When you're creating an invoice or estimate for a specific job, for example, or filtering a report, you'll need to make sure that you select the correct job, and not just the customer. Otherwise, your bookkeeping will not be accurate.
Estimates and progress invoicing
If you do many jobs that take weeks or months, you may find yourself in a bit of a cash flow crunch. Rather than billing for everything at the end, companies in this position often deal with that by creating estimates and dispatching progress invoices. You don't even have to send estimates to customers; they're helpful, though, for gauging your projected income and expenses.
To build a progress invoice partway through a job, create the estimate and click
Create Invoice
. This window will open, offering three billing options:

Figure 4: QuickBooks gives you three options when you're creating a progress invoice.
Select the one you want and click
OK
. Your invoice will appear, billed according to your instructions.
In-depth reports
Insightful, detailed reports are your reward for all of this meticulous bookkeeping. QuickBooks' job definitions may be fairly simple, but the reports they make possible give you tremendous insight into how cost-effective your projects are. You'll learn how each job is doing in terms of things like:
Profitability
The accuracy of your estimates
Time and mileage
Unbilled costs
Job status
QuickBooks' job-tracking tools are not overly difficult to use, but you may want our help in getting your jobs set up and preparing progress invoices. Once you get more than a few jobs in the pipeline, you're going to want to be very confident in your ability to keep up with these procedures. But if you do, you'll have a deeper awareness of how all of your inventory and labor and other expenses are working together to complete projects profitably.
It may seem like a no-brainer – cut expenses to make more money – but many small changes can result in significant savings.
It looks like the economy may finally be looking up. Still, this is no time to loosen the purse strings in terms of your business expenses. Rather, why not re-double your efforts to cut costs and boost your profitability?
Excessive expenses cause debt, which in itself can be very costly. So any money-saving actions you take will be doubly rewarding.
More Effective Money Management
To cut expenses significantly, poke into every corner of your company's finances. Inventory is a good place to start. If you sell multiple units of the same item and reorder regularly, you should be using QuickBooks' inventory-tracking tools. Go to
Edit | Preferences | Items & Inventory | Company Preferences
.
Figure 1; Make sure that these settings are correct. If you need advanced features like FIFO costing, serial number and lot-tracking or inventory management at multiple locations, contact us about upgrading to Enterprise Solutions.
You should be stocking your inventory to match the pace of sales. You don't want to be caught short, nor do you want to be sitting on too much and tying up money unnecessarily. QuickBooks can help, but you'll need to calculate the sweet spot for each item. Several built-in reports can help, including:
Inventory Valuation Summary. Displays the current asset and retail value of each item and inventory as a whole
Inventory Valuation Detail. Shows how individual transactions have affected the value of your inventory
Inventory Stock Status By Item. Helps you set up smart reordering procedures
Open Purchase Orders. Outlines each purchase order and its expected delivery date


Figure 2: To maintain profitable inventory levels and minimize expenses, you'll need to study QuickBooks' related reports regularly. When you're making buying decisions, consider factors like reorder turnaround time and seasonal sales upticks.
Ratio reports, like profit over sales, can also be very telling. QuickBooks does not supply these, but we can help you create them in Excel.
Using Available Tools
The efforts you make toward reducing expenses in other ways can result in more savings than you might think. Here are some actions you can take that will accelerate your cash flow:
Use QuickBooks' budgeting tools.
This doesn't need to be as onerous as you might expect – you can start by pulling in your real data from the previous year as a base. Build in line items for ongoing accounting support like QuickBooks maintenance. Click on
Company | Planning & Budgeting | Set Up Budgets.
Figure 3: Selecting this option simplifies your task.
Minimize your April 15 obligation with year-round tax planning.
Work with us throughout the year on the next year's taxes to, for example, make smarter quarterly payments, and we'll help you reduce your tax bill by making better decisions every day.
Get discounts by paying invoices early.
Set up a custom field in vendor records to track this.
Figure 4: Get to know which vendors offer early discounts – and take advantage of them.
Analyze the cost-effectiveness of your transportation.
Can you replace some in-person sales calls with web-based communication? Make sure that your delivery routes and sales call paths are efficient.
Change product/service prices to build in your own cost increases.
Do it across the board, in small increments. It may not even be that noticeable to customers.
Talk to us about establishing a line of credit
. We'll help you determine if this is a viable option for emergencies. It's cheaper than using credit cards.
Cross-train employees.
Have employees train each other on their tasks where it makes sense. You can avoid costly temp help and relieve overworked departments.
Don't try to change everything at once.
Establishing these new procedures will require some extra work. And you may not notice a reduction in expenses immediately. But over time, you will see a positive change – one that will give you extra dollars and hours to invest in making your company flourish.
QuickBooks handles billable expenses capably, but it's critical that you understand the process thoroughly before proceeding.
Billing for inventory parts is easy. Pick the items from a list and specify a quantity. Poof. Done.
Billing for costs, time or mileage is a little more complex. QuickBooks has built-in tools to help you do this, but it's a bit of a process.
To simplify your workflow, do this groundwork first:
Go to Edit | Preferences | Time & Expenses | Company Preferences. Click the Yes button under Time tracking and indicate your choices under Invoicing options. If you plan to mark up some costs and want a default number, enter a percentage and account (these can be changed on individual invoices).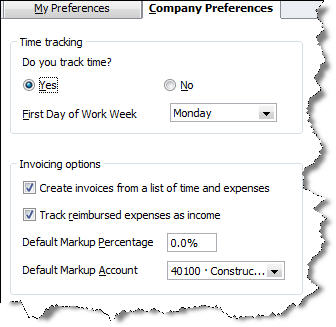 Figure 1: As you do with other QuickBooks processes, make sure that your Preferences are set correctly.
Add any billing items necessary by clicking Lists | Item List and then Item | New in the lower left corner.


If you plan to bill for mileage, go to Lists | Customer & Vendor Profile List | Vehicle List and enter information about every business vehicle.
Invoicing for Services
If you're a service-oriented company, you bill for time frequently. This is easy. You're probably already familiar with the
Enter Time
entry in the
Employees
menu. Whether you make individual time entries or complete a timesheet, it's critical that you make the correct selections for each
Customer: Job, Service Item
and
Payroll Item
field, and check the
Billable
box.
When you create invoices, this box will open after you select a customer:
Figure 2: QuickBooks lets you know when there are time and costs to be billed for each customer.
You can let QuickBooks enter the time totals now, or add them later by clicking the
Add Time/Costs
button. Either way, the
Choose Billable Time and Costs
window opens. Add a checkmark next to each entry that should be billed, and click
Options
… to indicate whether you want one line for each time entry or would rather combine all similar service item types.
Figure 3: QuickBooks wants to know which entries should be invoiced.
More Complexity
If you're done with billable expenses for this invoice, click
OK
. If there are other costs that you covered, click the
Expenses
tab to see all transactions that you earmarked for this client on a bill, check or credit card. You have the option here to mark up the cost by a percentage or amount (even if you established this in
Preferences
), and to specify an account.
Do the same for
Mileage
, which you would have entered previously – when it was incurred -- at
Company | Enter Vehicle Mileage
. Then select any
Items
that you purchased for the customer. Your records should be correct – assuming that you were conscientious about assigning expenses to customers and jobs.
Figure 4: It's easy to pull billable expenses into invoices if they're documented carefully.
Turning expenses into invoices and then into income can be complicated. Let us know if we can help. We are your partner in building a successful business.
April 15 is getting uncomfortably close.
QuickBooks, of course, can't do your taxes for you. But it helps you lay some of the groundwork. Following up on last month's column on customizing reports, we'll look at the program's tax-related reports and its powerful report-filtering options.
But first, you'll need to make sure that this output will be accurate.
Describe your company accurately
Your
tax entity
setting should have been established when you first set up QuickBooks, but verify that you've specified the correct one. Go to
Company | Company Information
. Your
Report Information
is in the lower left corner. Click the arrow next to
Income Tax For

m

Used
to see what's active.

Figure 1: Make sure that QuickBooks is set up for the correct tax entity.
QuickBooks automatically assigns some of your accounts to their matching lines on the 1040 and assorted forms and schedules; this is called
tax line mapping
. So when you create tax reports, related transactions will be grouped by these designations.
This can be a real time-saver – as long as you've specified the correct entity. If:
was selected
This setting is incorrect
You're starting a business and don't know which to choose… … please contact us. If you switch entities, your existing tax line mapping will disappear and will have to be reassigned.
Dedicated tax reports
Many of QuickBooks' general financial reports provide tax-related information. But there are some that specifically relate to the numbers that will go on your return. Go to
Reports | Accounting & Taxes | Income Tax Preparation
. Here's an excerpt of what you'll see:
Figure 2: QuickBooks automatically assigns many accounts to the appropriate tax form lines, based on your specified tax entity
.
Here, QuickBooks shows you which tax lines have been pre-assigned to your accounts. You can specify a tax form line for unassigned accounts, but this is something you should not attempt on your own. This report, though, will give you an idea of how useful your report output will be and where you'll need our assistance.
Other reports provide tax-related data. You can access them by going again to
Reports | Accountant & Taxes
and clicking:
Income Tax Summary. This displays totals for each tax line that's relevant to your particular tax entity. Double-click on any number, and the Tax Line By Account report appears, detailing every transaction related to every tax-related account (you could add a column for Tax Line in Display options and make this quite a useful report).
Income Tax Detail. This lists all individual transactions by tax form/schedule line assignment.
Paring it down
Some tax reports can be very lengthy; you may want to filter them to look at various "slices." Click
Customize Report | Filters
:
Figure 3: This window displays a powerful set of filtering options.
The options listed under
Choose Filter
are available on other reports; they help you set up incredibly complex searches using multiple filters.
Let's say you want a report that displays your installation labor costs on new residential construction from the last year (you could also throw other variables in). You'd simply choose the filters from the left pane and then select related options in the next pane (usually a list). You'd want to also click on the
Display
tab to make sure that the appropriate columns appear.


Figure 4: You can apply multiple filters to your reports.
QuickBooks reports can shave time off of tax preparation, and filtered views help you scrutinize your data in quite creative – and very useful – ways. The program's boilerplate reports have their place in simple examinations of your financial status, but filters are potent tools. They can facilitate the kind of deep analysis that helps you make critical business decisions.
If you have questions on this or any other QuickBooks feature, call or email us. We're your partner and we're here to make your business better.

If you make one resolution about improving your accounting procedures in 2012, it should be this:
Make extensive use of the tools that QuickBooks offers for report modification.
Comprehensive, meticulously-shaped reports that flow out of your carefully-constructed records and transactions are your reward for pounding on the keys every day, conscientiously recording income and expenses.
QuickBooks supplies you with a wide variety of pre-formatted reports whose modification options can help you do focused, critical analysis of your financial data. The right set of numbers will help you understand your history and plan for the future more effectively.
Note: The reports discussed and pictured here shows only one possible set of customization options. There are many variations. We can answer your questions.
Check your preferences
When you created your company file in QuickBooks, you chose between reporting on a cash (income and expenses are recorded when money changes hands) or accrual (recorded when you invoice or receive a bill) basis. This affects summary reports, but not those that break out individual transactions or are simply lists.
If you want to change this, click
Edit | Preferences | Reports & Graphs | Company Preferences
and click the desired button:
Figure 1: You can establish a preference for your summary reports' basis here.
You can set other preferences in this window that will affect your report output here, too, as you can see.
Altering the display
Open the
Income by Customer Summary
report (
Reports | Company & Financial
). Change the dates to reflect a range you'd like to see. Want the data displayed by different time increments – like week or quarter – instead of just the total? Click the arrow next to
Columns
and select
Four week
.


Figure 2: You can do some report display alterations from this toolbar; the options it offers vary by report.
By default, your report rows display alphabetically. If you want to view a column by total in ascending or descending order, select the column by hovering over the top number until the magnifying glass appears, and click on it. Click the arrow next to
Sort by
and choose
Total
, then click the AZ [down arrow] icon (in some reports, there will be other options here).
Additional options in this toolbar let you:
Memorize the report
Print, email or export it to Excel
Hide or Show the Header
Collapse or Expand the columns
Refresh the report if you've made changes that will alter data
More display options
Click
Customize Report
to open this window:
Figure 3: This window outlines your report's content options.
Some of the options here duplicate what you saw in the toolbar. In addition, you can switch between
Accrual
and
Cash
for just this report, and add
subcolumns
in some. The latter is a complicated operation, one that you must understand well in order to glean any insight from it. We can help you with this.
Sometimes the subcolumns are generic, as shown in the screen above. In other reports, they're very specific to that group of data.
Clicking on
Revert
takes you back to the default format, and
Advanced
opens additional options specific to the current report.
More customization = more insightful results = more informed financial choices
Transaction reports have many similarities and two major differences: You can change the column order by hovering your cursor over the column label until a hand appears. Click, hold and drag the column to the desired spot and let go. You can also add or delete columns by clicking
Customize Report
and checking or unchecking labels.
Figure 4: In transaction – or detail – reports, you can alter the column structure.
Learn the mechanics of report display modification well, and your company's finances will come into much sharper focus, improving the wisdom of future choices. Up next month:
filtering
your reports for additional clarity.
If you have questions on this or any other QuickBooks feature, call or email us. We're your partner and we're here to make your business better.
Refunds. You probably wince at the word. Some – like customer refunds for returns – are fairly uncomplicated, thanks to QuickBooks' tools. Others, not so much. You may find yourself unable to balance your accounts receivable.
There are numerous scenarios that necessitate the use of credit memos, including overpayment, order cancellations and bad debt write-off. It's critical that these are entered correctly. If they aren't, you may lose a lot of the time that QuickBooks helped you save as you try to chase down a few dollars.
Figure 1: QuickBooks helps you identify refunds quickly.
Sending money back
Let's say a customer pays for an order but cancels before it ships. You could:
Apply the balance to an existing invoice
Keep it as an available credit
Issue a refund
Click
Customers | Create Credit Memos/Refunds
. Select the correct customer and job (and A/R account, if you have more than one). Enter the items just as they appear on the invoice. When you're finished, click
Save & New
. The
Available Credit
window opens, displaying your options:

Figure 2: The Available Credit window displays your credit balance options.
You would select
Give a refund
and click
OK
. The
Issue a Refund
window opens and should already be filled in. If everything is correct, click
OK
. The refund check has now been entered in the checking register, ready to be processed.
WARNING: If the invoice was paid with a credit card, it gets complicated. Your instructions will depend on whether you are using Intuit Merchant Service for QuickBooks or another merchant account service. You'll also have to deal with transaction fees. We can help you deal with this.
Other refund options
If the customer has open invoices, you may want to choose
Apply to an invoice
in the
Available Credit
window. A list opens; just select the correct invoice. Or if you want to have those extra funds available for other invoices but don't want to apply them immediately, click Retain as an available credit. When you want to use them, click the
Apply Credits
button in the lower right corner of the invoice.

Figure 3: When issuing a refund, QuickBooks can hold those funds to be applied to invoices later.
Sometimes, customers overpay an invoice or statement charge, or make a down payment for which there is no invoice. This is easy to fix. Open the
Customer Payment
screen (
Customer Center | Transactions | Received Payments
) and double-click the related payment. In the screen's lower left corner, you'll see this:

Figure 4: Click the correct option here.
Click the correct button, then
Save & Close
. The Issue a Refund window opens; you'd treat it the same way you did when you dispatched a return refund.
Another use
You can also use credit memos to write off bad debt if you are using the accrual method of accounting.
If you don't already have a Bad Debt item in your item list, set up a new item as an Other Charge. Name it "Bad Debt" and match it to the correct account.
Open the
Credit Memo
window and select the customer, then select
Bad Debt
as the item. You'll get a message saying that the item is associated with an expense account; click
OK
. Enter the write-off amount minus sales tax if taxable (be sure the Tax column is correct) and click
Save & Close
.
WARNING: Enter two lines on the credit memo if it combines both taxable and non-taxable items (both charged to the
Bad Debt
account), one for each type. Be sure that the Tax Columns are correct.
The
Available Credit
window opens.
Select Apply to an invoice
. Put a check mark next to the correct one and click
Done
.
Make refunds make sense
It seemed easier in the days when you just wrote a check for a refund or made an entry in a paper ledger, didn't it? Using QuickBooks credit memos, though, helps you maintain records that follow standard accounting procedures and simplifies our understanding of your files. We'll be glad to help you make sure that this sometimes-complex task is done right from the start.